I don't know about y'all, but when I think about Christmas and the holiday season, I think about all the fabulous movies that I can watch with my kids.
It doesn't matter how many times I have watched some of them.
They never get old!
There are so many to choose from, but I want to share my best family holiday movies with you!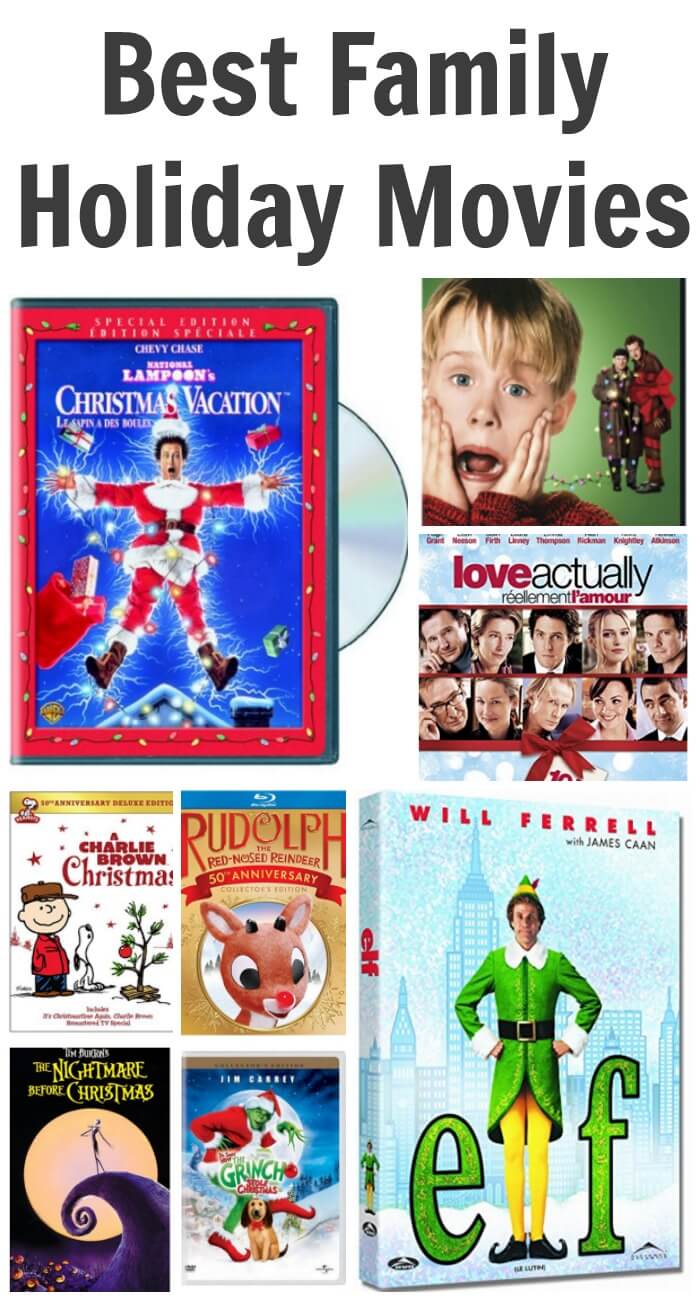 Best Family Holiday Movies
National Lampoon's Christmas Vacation
Make merry as Chevy Chase, Beverly D'Angelo, Randy Quaid and an ensemble of comedy favorites strive to gift-wrap the "perfect Christmas" for the Griswold family.
Pretty much the best holiday movie of all time!
The hilarious misadventures of the Griswolds will literally have you laughing until you cry!
Home Alone
Accidentally left behind when his parents rush off on their Christmas vacation.
Eight-year-old Kevin McCallister (Macaulay Culkin) embarks on a hilarious, madcap mission to defend the family home when two bumbling burglars (Joe Pesci and Daniel Stern) try to break in and find themselves tangled in Kevin s bewildering battery of booby traps!
Dr. Seuss How The Grinch Stole Christmas
Every Who down in Whoville likes Christmas a lot & ; But the Grinch who lived just north of Whoville did NOT!
So the cuddly as a cactus Grinch (with termites in his smile and garlic in his soul) tries to wipe out Christmas for the cheerful Who-villians, only to discover: Maybe Christmas, he thought, doesn't come from a store.
Maybe Christmas perhaps means a little bit more!
Magnificently narrated by Boris Karloff and animated by cartoon legend Chuck Jones, it's an award-winning Who-roast-beast-feast of a holiday classic!
A Charlie Brown Christmas
It's bound to be a white Christmas with this classic!
From creator Charles M. Shultz and producer Bill Melendez, it's A Charlie Brown Christmas.
Not only does this timeless special have the distinction of warming hearts young and old, but it has won both an Emmy and a Peabody Award.
Whether you are seeing this holiday masterpiece for the first time or the first time in years, you have doubtless heard of that ol' blockhead Charlie Brown and the little tree that could.
Filled with mythology as the gang tries to put on a holiday play, kids big and small will end up with a pretty decent dance party, a lesson for the ages and some good old-fashioned fun.
As for the tree — it's amazing what a little love can do.
love actually
"Get ready for fun!" (Leah Rozen, People) with the "feel good movie of the year!" (Clay Smith, Access Hollywood)
Love Actually is the ultimate romantic comedy from the makers of Bridget Jones's Diary and Notting Hill.
Funny, irresistible and heartwarming, an all-star cast (Hugh Grant, Liam Neeson, Colin Firth and Emma Thompson, to name a few!) will take you on a breathtaking tour of love's delightful twists and turns.
Fall under the spell of Love Actually and share the laughs and charm again and again.
Rudolph The Red-Nosed Reindeer
Who's got a nose for Christmas?
Rudolph the Red-Nosed Reindeer!
Just in time for the holidays, here comes Rudolph in the most beloved special of all time!
Packed with a sleigh full of memorable songs and unforgettable characters, Rudolph the Red-Nosed Reindeer lights up the hearts of young and old alike.
Frosty the Snowman
Frosty's back in a new adventure when Mr. Twitchell's invents Summer Wheeze; a spray-can that instantly removes snow and slush.
Meanwhile, while Charles is practicing his magic act, Holly's black silk hat blows off her head and lands on a Snowman.
As soon as Frosty puts on the hat he realizes he need to help convince everybody that snow is actually a good thing.
A Christmas Story
In this holiday classic, Ralphie, a young boy growing up in the '40's, dreams of owning a Red Rider BB gun.
He sets out to convince the world this is the perfect gift.
The Nightmare Before Christmas
Jack, King of Halloween, finds Christmas Town.
Elf
One Christmas Eve a long time ago, a baby crawled into Santa's bag of toys Raised as an elf.
Buddy goes looking for his true place in the world–in New York City.
This is an awesome holiday movie that will be sure to have your family laughing and get you all in the holiday spirit.
I hope you enjoy this list of my favorite Christmas movies!
Do you have movies that are must-sees every year?
What are your favorites?
I'd love for you to share!
Check out these Christmas articles; 10 Things that go on Sale after Christmas, What to get a Baby for Christmas, Tips for Sleeping Well Christmas Eve, Christmas Eve Fondue Party, Free Christmas Thank You Card Printable and Tracker and DIY Christmas Shower Curtain for under $20